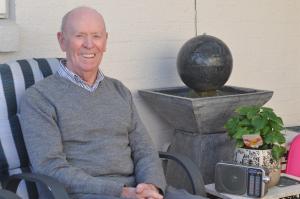 For Bryan Mair, Vision Australia Radio is a lifeline – and with 3YB and Vision Australia Radio swapping frequencies, he says it's a lifeline that will be available to many more people.
Bryan, 84, of Warrnambool, developed age-related macular degeneration more than a decade ago, and his low vision prevents him from reading. But he keeps up with local news and events across the south-west via Vision Australia Radio.
Warrnambool's 3YB switched to Vision Australia Radio's 94.5 FM frequency at midday on Monday, July 2, handing its 882 AM frequency to Vision Australia Radio. This will give 3YB better sound quality for its music format and Vision Australia Radio will greatly extend its reach across Victoria's south-west.
Bryan says he enjoys sports shows and the morning news but loves news from the local papers, read each afternoon by local Vision Australia Radio volunteers. "We get bulletins six days a week and I don't like to miss them because I get an array of news from the east, west and north. You don't get much from out to sea," he laughs.
"I know the district from Portland, Hamilton and back to Camperdown, and you always get a good smattering of news from The Standard and all the other papers."
Bryan says the switch to 882 AM will ensure more people who are blind or have low vision, and those interested in the news, can benefit. "I get the FM signal all right, but I know there are a lot of people that can't get Vision Australia Radio at home, so hopefully they will get to listen on 882 AM."
Vision Australia Radio has broadcast from Warrnambool for more than 15 years, with 37 volunteers producing seven hours of local content each week.
Vision Australia Chief Executive Officer Ron Hooton says the AM switch will expand the station's listening area, reducing isolation.
"This is an opportunity for 3YB to reach different audiences with a better sound and for us to give more people in the blind and low vision community access to information. If we add 100km to our reach, that's fantastic for our clients," he says. "Our feedback tells us these programs can be the difference between feeling isolated or not."
If you need help tuning your radio in to Vision Australia Radio Warrnambool, please call the free helpline number: 55643888.
For more details on VA Radio in Warrnambool:
Telephone: 03 5560 2300
Email: var-warrnambool@visionaustralia.org