About Us
Listeners located within the Greater Bendigo region; as well as surrounding areas including Echuca, Maryborough, Carisbrook, the Macedon Ranges and Heathcote, can tune into Vision Australia Radio (VAR) on the 88.7FM frequency.
Programs coming live out of the Vision Australia radio complex in Bridge Street include a twice daily reading of the latest edition of the Bendigo Advertiser (Every Monday- Saturday) and an 'Around the Region' program which encompasses newspapers from the various localities within our listening area (Some of these news titles include The Carisbrook Mercury, the Welcome Record, The Maryborough Advertiser, The Riverine Herald, The Kyabram Free Press, The Bendigo Weekly, and the Weekly Times. 'Around the Region' airs every Monday, Tuesday, Thursday (Weekly Times only) and Friday afternoon.
In addition to readings from various newspapers, local content may also encompass the Bendigo Magazine, the Bendigo Business Enterprise Magazine and other associated boutique publications.
Interviews with local organisations and personalities include such topics as entertainment, health, safety, consumer affairs and local government, as well as services provided by Vision Australia.
The Vision Australia radio 88.7FM station in Bendigo is staffed by a team of over 40 dedicated volunteers, who each week professionally deliver over 16 hours of local content to their listeners.
We hope that you enjoy listening to the local programming, as much as the VAR volunteers enjoy delivering it to you!
Around the Region
Every Friday afternoon, listeners of the 'Around the Region' program are treated to the dulcet tones of Edward Lithgow and Irene McKinna, presenting topical news items to listeners from newspapers including the Carisbrook Mercury and the Riverine Herald.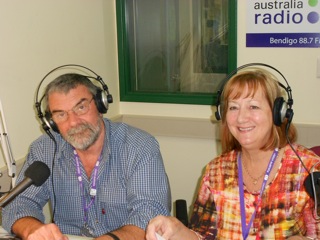 Edward has been presenting the 'Around the Region' program now for over eight years, with Irene enjoying her time reading and presenting on Vision Australia Radio for over four years.
Edward and Irene can be heard every Friday afternoon on Bendigo's Vision Australia radio station between 3pm - 4pm.
Contact VAR Bendigo
Address: 20 Bridge street, Bendigo VIC 3550
Telephone: 03 5445 5700
Fax: 1300 847 329
Email: varben@visionaustralia.org