15 January 2019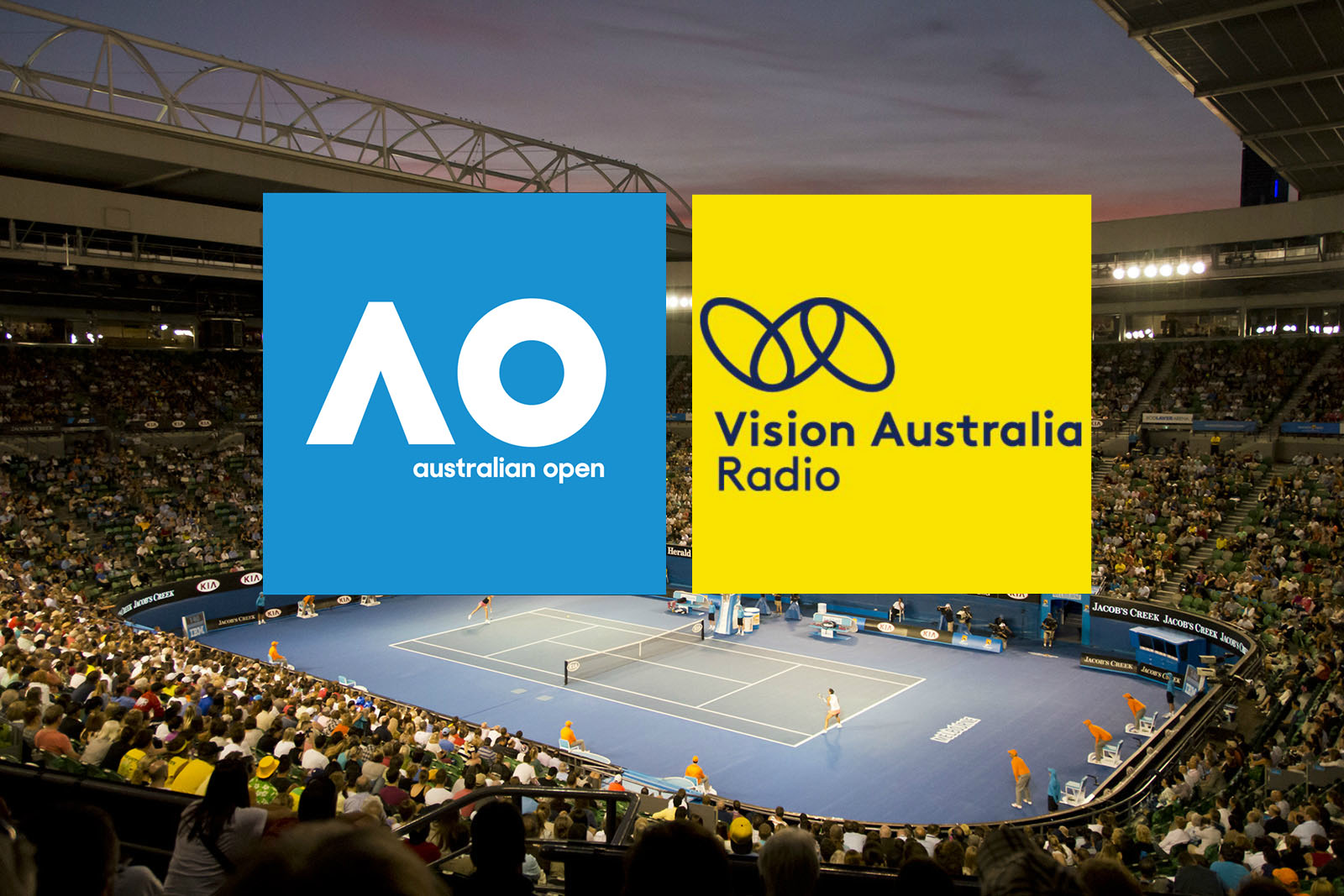 The worlds friendly grand-slam, the Australian Open is back for 2019. Once again our valued audience right across our network will be able to hear the action in partnership with AO Radio, as we simulcast the tournament for a third year running from January 14 to 27.
Once again all Rod Laver Arena matches, plus regular score updates from the outside courts, will be broadcast across Vision Australia Radio network along with news, player interviews and more, directly from the presenting team at AO Radio including Bojana Bobusic, Chris Bowers, Simon Cambers, Jill Craybas, Jenny Drummond, Richard Evans, Craig Gabriel, Mark Hlawaty, Kate Kearns, Peter Marcato, Nick McCarvel, Linda Pearce, Steve Pearce and Chanda Rubin.
How to hear all the action from Melbourne Park:
Melbourne and Adelaide listeners can tune in each day from 11am on IRIS Digital Radio until end of play.
Perth listeners can follow the action from 4pm on VA Radio Digital Perth until end of play.
Regional Victorian audiences can hear the broadcast on their local VA Radio station from 7pm until end of play.
Outside of the above mentioned time slots, you will be able to hear all our regular programing, and programs taking a break will immediately resume following the Tennis on the 28th of January.
For those tuning in to Vision Australia Radio across the country for the first time, we welcome you to our service and we hope you will consider listening to our diverse programing outside of our Australian Open broadcast. The Vision Australia Radio Network operates to address the information needs of people who are blind, have low vision or a print disability.
800+ volunteers keen the service going strong, across 15 radio services nationwide, with AM radio services in Melbourne, Adelaide and Perth and seven services in Regional Victoria. There are also five digital radio services – VA Radio simulcast service in Melbourne, Adelaide and Perth as well as the IRIS digital radio services in Melbourne and Adelaide. IRIS contains programming from across the Vision Australia Radio Network and from other RPH (Radio for Print Handicapped) stations across Australia.
For a full list of our radio services, head to varadio.org where you can also stream our Melbourne and Adelaide broadcasts via the homepage. For our AM and FM services, tune in to your local service from the list of stations below:
Melbourne VAR | 1179AM / VA Radio Digital / IRIS
Adelaide (5RPH) | 1197AM / VA Radio Digital / IRIS
Perth VAR | 990 AM / VA Radio Digital
Geelong VAR | 99.5FM
Bendigo VAR | 88.7 FM
Albury VAR | 101.7FM
Shepparton VAR | 100.1FM
Warragul VAR | 93.5FM
Warrnambool VAR | 882AM
Mildura VAR | 107.5FM
Special thanks to the AO Radio production team including Patrick Bonello, Louie Bulzomi, Matt Dwyer, Darren McKenzie, Rhys McLeod, James Parkinson and Jason Taylor, Vision Australia Radio Broadcast Systems Technician, Dale Simpson & Kim Trengove
Senior Manager Digital & Publishing Tennis Australia.