12 May 2021
People who are blind or have low vision are understandably at a disadvantage when trying to understand non-verbal cues.
In fact, 55 per cent of meaning is communicated through body language and only seven per cent is through spoken word, according to Professor Albert Mehrabain of UCLA.
Episode two of Vision Australia's Nothing's Off Limits podcast delves into the fascinating world of communicating well, finding confidence and getting around safely for someone with a vision condition.
Speaking to hosts Polly Goodwin and Tess Herbert, Vision Australia's Nemoy Malcom says confidence is something you hone.
"Confidence comes from inside first," Nemoy said.
"So, if you're telling yourself you're not confident in what you're doing then people around you will think you're not confident."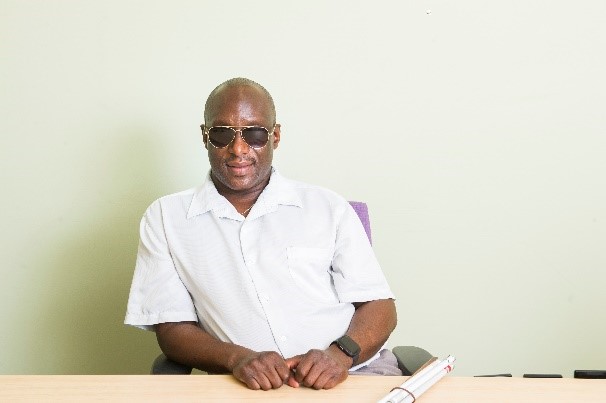 Nemoy works with people who are new to blindness or low vision in his role as emotional and social support programs supervisor. Often they are at a loss at how to find their way around, and become overly cautious and worry about what others will think.
"Remember, sighted people bump into people and poles too," he told the podcast.
"Practise doesn't make perfect; it just makes better. Look forward even when you're lost. Walk with a purpose. Use your mobility aids and your skills to your advantage."
Mastering the use of your voice can also be hugely helpful for getting your needs across to overly helpful people.
Nemoy stops what he's doing, faces the person directly and speaks to them calmly when they've approached him or touched him in an attempt to help. It's direct and gets the message across without being aggressive. He's honed this over time and encourages people to practise their own versions that they're comfortable with.
Episode two also sees advice from Equality Lawyers founder and principal lawyer Natalie Wade and Vision Australia orientation and mobility specialist Darren Moyle.
Listen here or on the player below.
Nothing's Off Limits will air across the Vision Australia Radio network at 9pm local time every Wednesday, beginning May 5. Each episode will also be repeated at 9.30pm local time every Sunday (9pm Saturdays in Adelaide).
Episodes will also be available as podcasts from the Vision Australia website, Podbean, and Spotify.
The 10-episode series life's aims to tackle life's more awkward, embarrassing and uncomfortable topics from a blindness and low vision perspective.