05 April 2023
Radiothon is back in 2023 to support of the vital work of Vision Australia Radio.
For the month of April, Vision Australia Radio is calling on the community to get behind Radiothon to help ensure the service can continue to bring information and programming to air for Australia's blind and low vision community.
Each month an average of 350,000 people tune into Vision Australia Radio. The network's extensive programming includes newspapers and other publications being read on-air, current affairs, and programs covering blindness and low vision specific topics.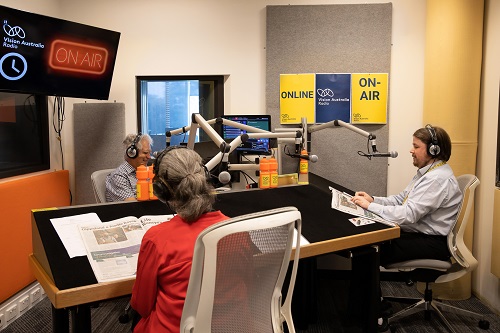 Caption: Vision Australia Radio brings a huge range of content to air every week. 
This year, Vision Australia Radio is aiming to raise $50,000 across Radiothon to help cover the more than $2 million it costs to bring the service to air each year. keep the service on-air each year.
"We know Vision Australia Radio is a vital service for the blind and low vision community across Australia and every dollar raised through Radiothon helps us to keep broadcasting across our network of stations," Conrad Browne, manager Vision Australia Radio and audio services, said.
"For our listeners, the impact of Vision Australia Radio is twofold. Firstly, our programming provides access to information through the huge range of newspapers and other periodicals that are read over the air each day," he said.
"Secondly, it's one of the only outlets where people who are blind or have low vision can hear programming that not only covers issues that directly impact them, but is produced and presented by others who are blind or have low vision."
Radiothon runs from April 1-30 and all donations of $2 or more are tax deductible. Donations can be made online at www.varadio.org or by calling 1300 84 74 66.
"For many people who are blind or have low vision, Vision Australia Radio is what keeps them connected to their community," Conrad said.
"Radiothon is a vital part of us being able to provide that connection, both through our existing radio network and also as we evolve our service to meet the listening needs of people in the future."