01 May 2019
By Darcy Luscombe
When thinking of boots-on-the-ground journalism and reporting from a war-torn and brutal country, you don't usually also think This Is Spinal Tap. RocKabul (2018) is just that; a documentary filmed over the course of 5-6 years, chronicling the journey of Afghanistan's first metal band, District Unknown.
RocKabul is lovingly and devotedly created by Travis Beard, an Australian filmmaker, photo-journalist and musician who lived in Kabul for 7 years.
At its core, RocKabul is a fearless and no-holds-barred following of a group of young Afghan men in their journey to express both themselves and their love for music in a country and culture that has little to no understanding for what they are doing.
Beard's film introduces us to cousins Lemar and Qais, and brothers Qesam and Pedram with their newly formed metal band, District Unknown.
A common thread running through the film is one of both contrast and similarity. District Unknown began just like any other band of young, excited metal heads; with out-of-tune guitars and a drummer who can scarcely hold a beat.
Conversely, their rehearsal sessions are cut short or inhibited as they have to constantly find new places to rehearse, for fear of being discovered by the conservative religious community around them.
In the words of an ex-Taliban judge interviewed for the film, "That music is not allowed...if you listen to this ridiculous music, flames will come out of your ears on Judgement Day."
Viewing this documentary reveals the very real struggles that anyone of dissenting views and actions deals with in Afghanistan.
Travis Beard's role as both participant in this burgeoning underground musical movement in Kabul, and as creator of this documentary, adds a relatable point of perspective for Western audiences. More importantly, though, it displays the relationship he had with these young musicians, and is a constant warm note throughout the film.
His friendship, mentorship, and understanding of these oft-misunderstood young men in a country that, generally speaking, wanted nothing to do with their passion, allowed him to truly and honestly tell their story.
This film is a potent showing of journalistic grit and dedication, as well as a genuine human kindness and generosity.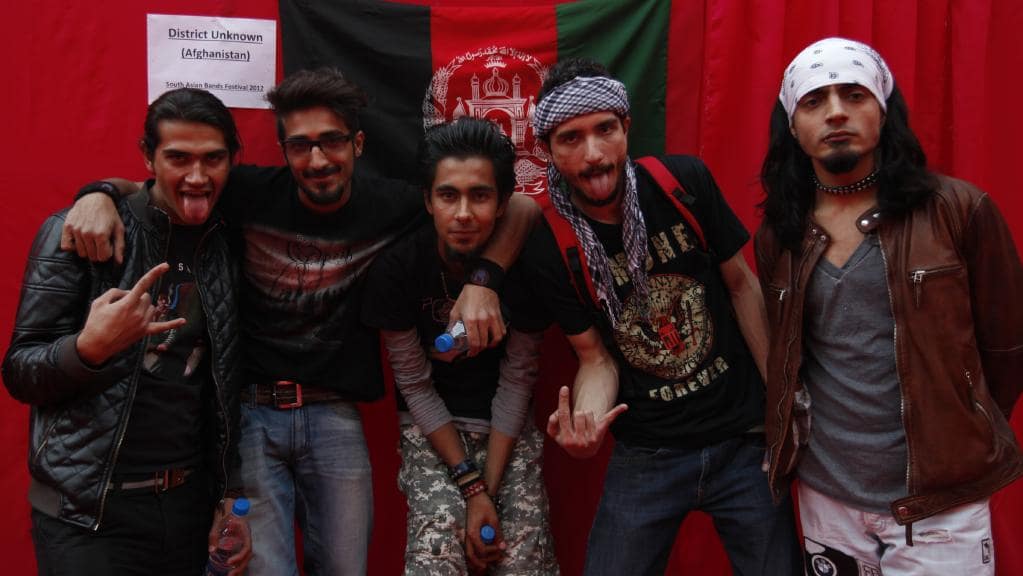 The authenticity of the individuals in this documentary, especially from District Unknown, is what makes RocKabul such an intriguing watch.
One of the stand out moments for me was during one of the band's early performances where lead singer Lemar announces their song 'We'll Stay', crying out with a startling growl, "Damn those who ruined our country!"
It's a challenging call-to-arms against the groups and cultural restraints that have throttled Afghanistan.
Audiences with any kind of connection to more rebellious strains of music will greatly appreciate the honest passion and power behind these young men; they display a genuine sense of dissolution and distrust of the status quo that most Western musical acts simply do not have.
Watching the different authorities of Afghanistan repeatedly attempt to curtail the band, and the band subsequently persisting in their musical pursuits, instills a feeling of courageous victory.
Being an avid fan of metal and punk music myself, watching this underground, counter-culture movement of art reminded me of the bands I love, like Black Flag and Fugazi.
These bands developed in scenes around cities and small towns in America, creating aggressive, politically charged music that questioned the established norms and traditions around them.
To witness the journey of a band with the same ethos in a country such as Afghanistan is fascinating.
That being said, this documentary isn't just for lovers of metal, or for the simply curious. This film is a devoted and insightful dive into the culture of Afghanistan, its culture, its youth, and how the love of music and art can act as a powerful bridge between tradition and powerful and tangible progression.
RocKabul releases in Australia on May 16, 2019 – for more details visit https://www.rockabul.com
For Cinema screenings around Australia see www.potentialfilms.com