24 June 2021
An Australian athlete live from the Tokyo Paralympics, a blind astronomer and an indigenous author will headline Vision Australia's webinar series in July.
This week on Talking Vision host Sam Colley speaks to Maria Markou, the Telelink Programs Coordinator at Vision Australia who organised the impressive line-up to get a sneak peek at the event.
Special guests include Paralympian Matt Levy OAM (July 5), Indigenous author and lecturer Tyson Yunkaporta (July 19) and blind astronomer Wanda Díaz-Merced (July 26), who can hear the stars with a special invention.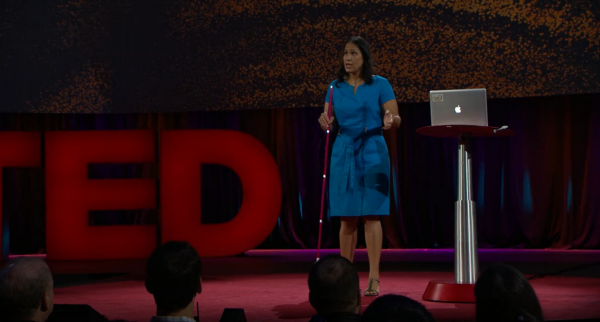 Caption: Special blind astronomer Wanda Díaz-Merced speaking at a Ted conference.
Maria says she's excited for this diverse winter webinar series.
"They will be very interesting Q&A style webinars, which allows for audience participation."
"People can submit their questions ahead of time when they register or ask the speaker live during the event."
On top of the star line-up, a fan favourite is also returning to the Telelink series; the audio described tour of the Portrait Gallery of Canberra. This time it will feature their new exhibition on Australian Love Stories.
Those interested can register their interest online with the below links:
Also on this episode of Talking Vision, Sam speaks with Harriet Moffat, the host of the Seeing Eye Dogs Radio Show, as they bust some myths about the life of a Seeing Eye Dog.
Talking Vision is a weekly discussion of issues relating to blindness and low vision.
It includes stories of inspiration and achievement and information on services for the community.
Tell us your story by emailing [email protected]