12 April 2021
Vision Australia Radio manager Conrad Browne speaks about our programing changes and new streaming services on a recent episode of 'Talking Vision'
From Monday April 12, Vision Australia Radio (VAR) is launching revised on-air program guides across the VAR network. Many of your favourite programs are returning alongside some new local and national shows to continue to keep you informed and entertained.
In the second half of 2020, the VAR team began to look at the ongoing impact of COVID-19 on all aspects of our VAR network. We reviewed each of our stations program guides to look at how we could better utilise the VAR networking capabilities and improve the capacity and consistency of programming across each of our stations. This was also done in line with the 21st Century Radio strategy that was devised by the VA Board and Management. A considerable amount of time, energy and resources have been dedicated to this process. The planned outcome is geared to further build on what we have learnt over the past 12 months as well as continuing to develop and deliver programming and content in consultation with our community of interest and listeners, develop a COVID-proof VAR Network and increase participation and content made by and for the blind and low vision community. A key goal has also been to review where we were repeating and duplicating programming across the VAR Network and better utilise our resources to improve delivery of radio and audio content in line with our license and compliance obligations.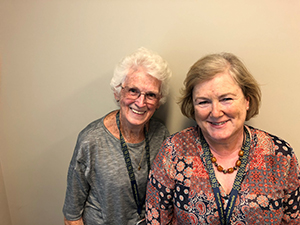 Thanks to our incredible team of volunteers we have revamped certain shows and created new programs to allow VAR to deliver more news, information and content to you each day. Alongside our local breakfast programs which deliver the latest news happening in your area, we are also re-introducing and launching the following shows across the VAR Network:
National Press (weekdays from 10am – weekdays): presented from VAR Adelaide, newspaper readings from The Australian & Australian Financial Review.
Online Review (weekdays from 12 – 1pm): presented at VAR Melbourne, today's news sourced from many of the best and well known national and international online news sites including ABC News, SBS News, The New Daily and Al-Jazerra.
Afternoon Live (weekdays from 1 – 2pm): presented at VAR Melbourne, featuring readings from a wide variety of magazines and supplements focusing on human interest stories, arts, entertainment and more.
National News Hour (weekdays from 5 – 6pm): presented at VAR Perth, a reading program looking at the biggest stories of the day sourced from National online news sources.
Vision Sport (Saturday from 10.30am – midday): presented at VAR Melbourne, a look at the biggest sports stories from the week and the week ahead, featuring interviews and panel discussions alongside the latest news in blind and low vision sports and the people involved.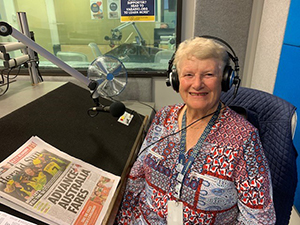 There are so many more new and returning shows to explore so please click on the links below to access your local program guide for more details and as always, please feel free to drop us a line to let us know what you're enjoying, what you'd like to hear or if you'd like to get involved: Contact Us
Show your support for Vision Australia Radio, an essential service for people with a print disability, by making a one off donation or becoming a regular giver.